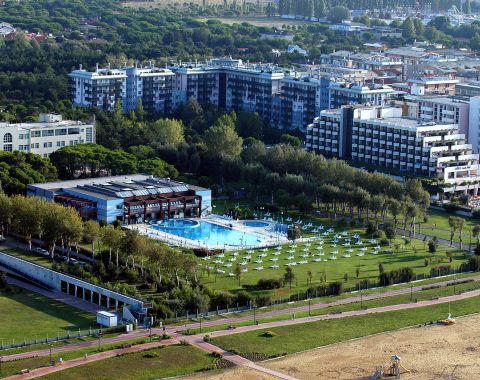 Even during the bad days and the winter season, Bibione is able to give the guests some moments of warmth, relaxation and fun.
How? It is simple, thanks to its spa.
Bibione Spa is located in a peaceful and quiet oasis, immersed in the green pine-wood and a short walk from the beach. Open all year, the spa is a modern centre equipped both for traditional spa treatments, made by a team of doctors, and for the fun of children and relaxation of adults. The success of the spa is due also by its water, flowing at 52° to a depth of 400 metres, particularly recommended for mud-baths and balneotherapy, inhalation treatments and the rehabilitation of vascular system.
The therapeutic centre is well known and appreciated by the public, so much that there are many people coming from different regions to carry out treatments, even joining a stay in the seaside resort. The Bibione spa are not just a care and rehabilitation centre, but also a multi-purpose centre for any kind of request regarding the psycho-physical well-being.
So here we find a wonderful beauty centre, a small paradise for massages and modern natural beauty treatments; a gym for all kind of fitness courses, from the bikes for spinning to the most innovative courses; a spa area with indoor and outdoor pools with whirlpools and water games for children, sauna, Turkish bath, solarium and snack points.
Especially this last area is very popular with families during the winter, which, immersed in the natural hot water, can have fun all day. From the indoor pools, you can easily swim to the outdoor pools even in the cold days, with the chance to admire the beautiful park. You can relax with the Whirlpool, while children play, or choose among two 90° saunas, a biological sauna at 75° and the Turkish bath.
Year after year the spa of Bibione is enriched with new services, structures and equipments to offer guests a more higher offer and a centre able to integrate with the hospitals for the prevention and rehabilitation.
The continuous investment in quality and professionalism allowed also to open in autumn 2011 a new beauty farm, with innovative treatments studied on each guest, with suited lights, music and fragrances.
For thermal and beauty treatments, or simply for a different say with your family, the Bibione spa will satisfy your wishes.