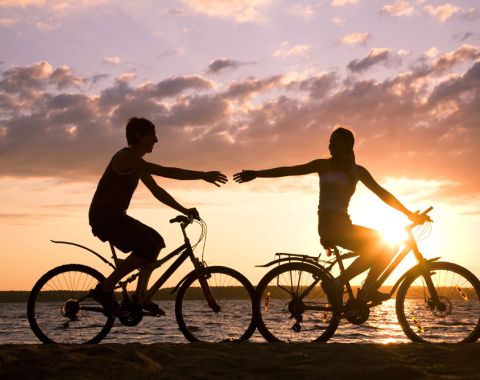 Forget your car and use the bicycle for your holiday in Bibione.
A convenient means of transport to get around the city, without the stress of traffic and the parking place.
An eco-friendly means of transportation to keep the city clean and the air fresh.
An ideal means of transportation to do some sport, stretch the legs and relax.
An amusing means of transportation for a nice picnic with family and friends.
A great means of transportation to discover the most beautiful places of Bibione and surroundings, with over 20 km of internal paths.
Widened and improved over the years, today the paths are pride and joy of Bibione. Loved by tourists, which can explore the city in its extent without any concern, these paths are maintained with great care and allow you to see beautiful landscapes and spend the holiday at a slower pace, almost natural. With the bike you can discover the lighthouse, follow the coastal line from east to west and admire a fiery sunset.
In particular this last path is the most popular with tourists, because it runs parallel to the sea, divided in two with a lane for cyclists and one for pedestrian, bordered with flower beds, box and rose-bay shrubs. Thanks to the streetlights, cycle paths are available even at night in safety. An occasion to enjoy the view of the sea beneath the stars.
Bicycle lovers can also discover the interior, cycling on tarred streets and on dirty roads with banks which follow alongside the canals and the river Tagliamento.
These paths go through the pinewoods, the lagoon, the countries and all beautiful landscapes in the surroundings of Bibione.