Doge's vineyards route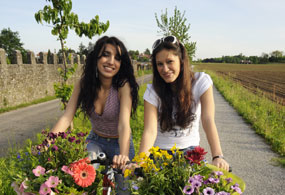 The Doge's vineyards route offers the chance to discover a beautiful panorama that winds through rolling hills and vineyards, combined with the warm hospitality of the selected wine bars. History, nature, and flavors mingle in this fascinating journey.

The Road of Wines Lison-Pramaggiore, also known as the Wine Road of the Doges, goes through all the area between the rivers Tagliamento and Livenza, down to the sea and the beach of Bibione and touching different cities of great historical and cultural interest.

The area Lison-Pramaggiore is known "Zona Classica" (Classical zone) because here the Romans started the local wine production, that expanded in the days of the Serenissima Republic.
The "Zona Classica" winds across cities like Belfiore and Lison, Portogruaro and Concordia Sagittaria and other towns rich in history and culture of ancient times. This tour through the flavours will allow you to go into the wine cellars of the best D.O.C. area wine producers, discovering the varieties of Merlot, Cabernet Franc, Friulian Tocai, Sauvignon, Pinot Grigio, Refosco, Verduzzo, Malvasia Istriana, Terrano, Ribolla and Franconia.

In this territory, about 400 hectares, produces organic wine, that is, without chemicals. In their place rose the "human" contact with the grape vine: increased control over the vineyard and in company with several operations carried out by hand.

From one destination to other you can also enjoy the hospitality of the farms, hotels and restaurants that will introduce you to the wine's culture and to typical local produce of the land, besides the beauty of the landscape and of historic treasures of the area.
The Wine Route Lison-Pramaggiore has 3 routes: "The classic area", "The area of the Livenza" and "The area of the Tagliamento." The latter route down to the beach of Bibione. In addition, near the seaside resort was founded an association of restaurant owners in order to enhance the local food and wine, starting with the revival of old recipes.

A fascinating journey through history, traditions and local flavours, surrounded by nature and peace.
During your tour you will recognize the farms associated to the Consortium for the Wine Protection Lison-Pramaggiore by the sign with the Lion of Saint Mark.

For further information www.lison-pramaggiore.it or www.stradavini.it
Directions to Doge's vineyards route