Duino Castle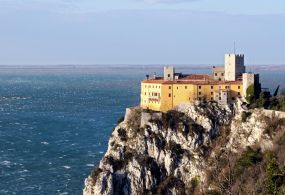 Duino Castle has an ancient and noble history: erected in 1300 on the ruins of a Roman outpost, it is today inhabited by the Princes of Thurn und Taxis. The castle is linked to the tragic legend of the White Lady.

OPENING HOURS
Open every day except Tuesday
From 13 March to end March: from 9.30 to 16.00
From April to September: 9:30 to 17:30
Before mid-October: 9:30 to 17:00
Second mid-October: 9:30 to 16:00
During winter open only on Saturdays, Sundays and holidays from 9:30 to 16:00

Closed December 25 and January 1.

For info: visite@castellodiduino.it - Tel .: +39 040 208120

Old Castle: by appointment

Duino Castle is located few kilometres from Trieste and it stands on a steep spur of rock overlooking the sea. From this place you enjoy a wonderful view on the Gulf and its park with the bunker from the Second World War and the Maria Rilke path allow to walk in the particular Mediterranean vegetation, the northern in Italy.
The castle is a massive building, on which stands the sixteenth-century tower that still retains its millennium structure. Around this tower, on the ruins of a Roman outpost, was built in 1300 the new castle, not far from the old one, which probably was dedicated to the cult of the Sun God and is now romantically called The White Lady.
This name is inspired by a snow-white rock that, viewed from the sea, it looks like a female figure draped in a long veil. According to the legend, an evil king threw his wife from a cliff and the sky, moved to pity by the cries of the girl, turned the girl to stone before she touched the water. It is said that every night the White Lady comes off the rock and begins to wander through the rooms of the castle until dawn, when she comes back to the rock.
The new castle is for over 420 year property of the Princes von Thurn und Taxis, who live there and since 2003 they opened most part of their house rich in important works of art and historical relics for visits, as well as gala dinners, meetings, weddings, art exhibitions, concerts, photographs and films.
Since 1600 the castle accommodated important personalities, as Sissy Empress, the Archduke Francesco Ferdinando, Johan Strauss, Franz Listz, Gabriele D'Annunzio, Paul Valery and, especially, the hermetic poet Rainer Maria Rilke, who in this castle composed the first two famous Duino Elegies.
In memory of this event, was named to the poet a panoramic path – Path Rilke - about 2 km ling. Opened after the restoration in 1987, it runs high on the rock between Duino and Sistiana Bay, with beautiful view on the Cliffs Nature Reserve. Few walk steps from this paths there is the park of the castle, where there are ancient trees, lawns, flowers and aerial architectures.
In the park you can also visit the bunker of the Second World War, an original museum excavated in the rock. Open in 2006, the bunker has been built in 1943 by German Kriegsmarine to defend the Sistiana Bay in case of attack by the Allies. Used before as air-raid shelter, when the war ended it has been used by the British Army as fuel deposit. Now, thanks to a great work of restoration, there are different historical relics.
Duino, a place where getting lost between princes and poets, along a picturesque path that goes in a magical world with the scent of Mediterranean vegetation, where the view extends to the sea from the white cliffs.
Directions to Duino Castle