Portogruaro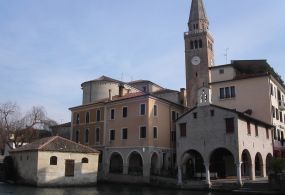 Region: Veneto
Elevation: 5 m a.s.l.
Area: 102,22 km²
Population: 25.454 (as of April, 2011)
Gentilic: Portogruaresi
Patron: St. Andrew Apostle
Patron-Day: November 30

20 minutes away from Bibione, you can visit Portogruaro, ancient port on the river Lemene.
At the time, Ippolito Nievo said about Portogruaro "only the water lacked to complete the likeness to Venice..." and in fact the houses of the small town were inspired by the buildings of Venice. To this day it is possible to see the ancient palaces on the two banks of the Lemene with the double entrance: on the street and on the river.
Like all ancient cities, also Portogruaro was enclosed by walls and the access was allowed by five gates, three of which are still existent.
Portogruaro is knows also as the "town of the porticoes" and it is just walking under these porticoes that you can reach Piazza della Repubblica (Republic Square), characterized by a tall column with the Saint Mark lion and by the Palazzo Municipale (Town Palace), a beautiful example of Gothic style dating back to 1300.
The Pozzetto delle Gru (Small Well of Cranes) in the square, together with the City Hall and the water mills of the XII century, is the symbol of the city.

Continuing the visit, you will find the Saint Andrew's Cathedral with very important works of art and the Leaning Bell Tower (Campanile Pendente). You can not miss a walk through Corso dei Martiri (Martyrs Main Street), where you can admire spectacular buildings of the fifteenth century in Venetian Gothic style.

A few more steps and you will see the imposing Villa Comunale (Town Palace), that today houses the Library and the Palaeontological Museum "M. Gortani" and close to it, the National Museum of Concordia, in which are preserved many archaeological finds of Roman age coming especially from Concordia Sagittaria.
Past the neoclassical colonnade of the Marconi College, you will reach the wide Piazza Cavour (Cavour Square) with a double line of porticoes and buildings in Gothic-Renaissance style.

Before leaving for the beach of Bibione, stop in one of the inns in Portogruaro: here you will taste fine D.O.C. wines from the renowned Lison-Pramaggiore area and also typical dishes of the local tradition.
Directions to Portogruaro