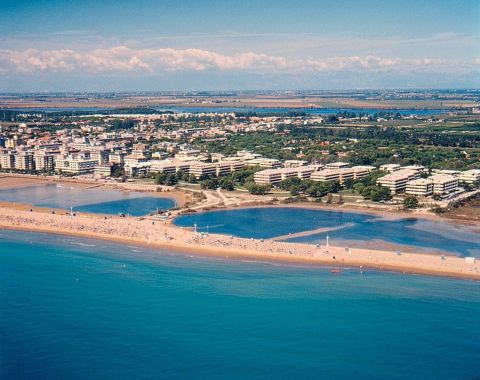 11 km of soft golden sand welcome you in Bibione!
With an average width of 400 meters, the beach of Bibione offers beach umbrellas and deck-chairs at a reasonable distance, ensuring in this way a personal space and more tranquillity. Children can also play safely on the sea shore, because the seabed of Bibione slopes gently.
The Baby Parking and the Mini Club, respectively for children from 3 to 5 years old and from 5 to 12 years old, offer to the little guests of Bibione the opportunity to strike up new friendships and to play together under the supervision of qualified and always smiling animators.
Also adults have an animation team! Besides being able to get a perfect tan thanks to its orientation towards Zenith, the beach of Bibione offers to tourists also many sports courses: aerobics, water gym, sports tournaments and dance with professional teachers. You also have the opportunity to attend sailing, canoeing and windsurfing courses and to enter in amusing tennis, volleyball and football tournaments. All that on the beautiful beach.
Bibione thinks even those who travel with their beloved dog.
The Pluto beach is a special area equipped with about 120 places with deck-chairs, sun beds, food and water bowl and leash for your four-legged friends. Your dog can also go swimming, thanks to a stretch of sea delimited by buoys.
On the beach you can also find the Customer Service: stewards and hostesses will solve all your requests.
The many European Blue Flags, the European Environmental Certification EMAS and the ISO 14001 Certification are a further guarantee of the high quality of the sea waters, of the modern services for tourists and of the careful environmental management of the entire seaside resort.
The aim of the beach of Bibione is to offer every year, more and more special holiday. And to reach this purpose, the city commits itself to respect the nature and to offer a perfect welcome for its guests.
Go to the article