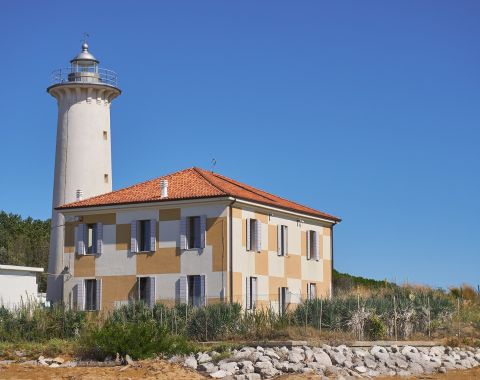 The Lighthouse of Bibione is located on the banks of the Tagliamento river, in the eastern side of the seaside resort, immersed in a beautiful natural oasis.
The lighthouse, built after the First World War, is a rectangular structure on 2 floors, with a cylindrical tower of 21 meters. At first totally white, now it is white and yellow ochre, adapting well to the environment.
Even today the lighthouse is the reference point for sailors, while during the day it is a destination for walks, bicycle and also horseback rides for the many tourists that spend their holidays in Bibione.
The lighthouse is reachable on foot or by bike through the cycle/pedestrian path that runs along the beach and links it to Lido dei Pini. Thanks to this choice, the area appears as wild, with the pine forest, the sandy dunes with their vegetation and wetlands rich in local flora and fauna.
This path is also very suggestive: going through the nature of Bibione, it is possible to admire sculptures created as part of the project "Land Play Walk".
Many people come to find some peace and relaxation in contact with nature, others arrive with their dog for a walk. Surely everyone is fascinating by this particular place, where different biotopes live in perfect balance.
An example? Here the typical Mediterranean plants mix with orchids and alpine flora, thanks to the proximity of the mouth of the river Tagliamento.
The lucky one can also see deers and weasels, as well as various birds such as, for example, spotted woodpeckers, elegant black-winged stilts and kingfishers.
The Bibione Lighthouse can be visited during the summer season and hosts art and photographic exhibitions inside, while outside is perfect for concerts and events.
More and more often, it is chose by young couples to celebrate marriage.