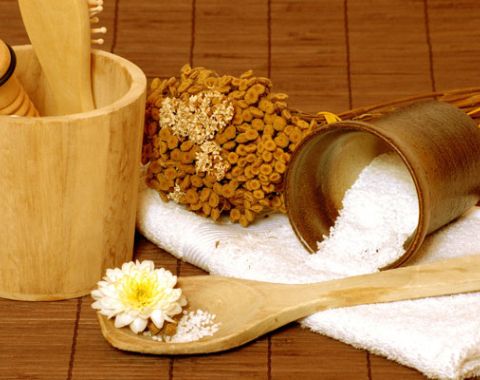 Designed to pamper each guest, from children to adults, this new offers high quality treatments made by a team of qualified professionals, which aim is to regenerate body and mind of the guest through gentle and relaxing methods.
The area welcomes the guests in a pleasant and elegant atmosphere. The design has been built to offer a unique experience, like unique are the treatments and the products, specially created for guests.
In the wellness area of Bibione Thermae you can choose among different "wellness-paths" with saunas, herbal baths, emotional showers and Polarium.
To meet the needs of guests, the wellness area offers different types of sauna that differ in temperature, humidity and used essences.
Each of them has specific beneficial effects on body and mind.
For example, the bio-sauna has a lower temperature than normal sauna and is therefore suitable for those who can not stand the high temperatures.
In addition, here the steam is mixed with dried herbs and essential oils.
The benefits of this sauna are numerous, including the improvement of immune system and micro-circulation.
Those who, instead, are very stressed and suffer from insomnia, can take advantage of the herbal bath.
In a beautiful room with 100% humidity, you can breathe in essences of natural herbs, which have a beneficial effect on the respiratory system as well, and on muscle tensing for stress and, consequently, on better night's sleep.
These are just some of the new treatments available in the wellness area in Bibione Thermae.
In addition, there are massages and beauty treatments in the SPA, also recently renewed, where you can find also the new products to buy, to take at home a little bit of wellness and relaxation.