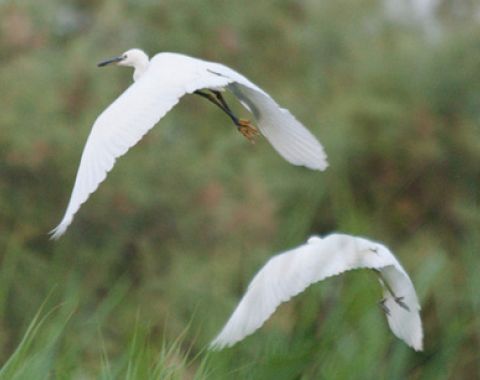 Those who want to make a nice excursion in natural environments where human activity was minimal and well harmonized with the environment, find in the fishing valleys the right solution.
Fishing valleys are typical of this area between Bibione and Caorle and they are named after the embankments. The valleys are the visible evidence left by man of environments which have remained uncontaminated over time and here, through a system of locks, are breed different species of fish, like sea bass and grey mullet.
In Bibione these valleys are Valgrande and Vallesina, while Vallevecchia lies between the seaside resort and Caorle and it is property of Veneto Region.

Valgrande and Vallesina:
Valgrande and Vallesina cover an enormous area, 475 hectares of which 320 of water, and are of great natural interest. Valgrande has a surface of 360 hectares and has been private property for centuries. Only in recent years it has open its gates to the visitors, showing all its beauty and harmony with which man was able to transform this swampy area into a beautiful fishing valley, protecting and respecting flora and fauna.
Here visitors can go through the native holm oak wood, that covers the ancient dunes up to the hill Mutteron dei Frati, where you can also admire a large Roman villa, still under excavation and restoration.
In the valley you can see also flowers of particular relevance and rare wildlife species, such as Hermann's tortoise.
The tour takes place in groups with a guide on foot, by bike or on horseback, a beautiful way of being more in touch with nature.
The best times to visit Valgrande and Vallesina are spring and summer for lovers of botany, while animal lovers find more satisfaction in early spring, late summer and autumn.

Vallevecchia:
Few kilometres away from Bibione, easily reachable by car, there is Vallevecchia, an island of 900 hectars bounded by sea, lagoons and rivers. The so close presence of these different typologies of water, create a really unique and unusual flora and fauna of great value.
Even in Vallevecchia there are different routes to make by foot, bicycle or on horseback. Visitors can follow specific sign panels that describe the environment, or can request a guide.

Delta of the river Tagliamento:
Coming back in Bibione, in addition to the beautiful two valleys, tourists have the possibility to see another wonderful landscape, the delta of the river Tagliamento in the area of the lighthouse.
Reachable by foot or bicycle only through two paths, this area has a great importance in flora and fauna as it has a typical vegetation of the warm Mediterranean climates together with species of the could mountains. There are in fact the oak, butcher's broom, marine alfalfa, heather, juniper and pine, not to mention the presence of wild orchids.
Regarding animals, here we find many birds like gulls, grebes, goldeneyes. With a little bit of lucky, you can also see red and grey herons, the black stork, very rare, and ducks. Here, as in the valleys, we find the tortoise of Hermann.

For those who want to find out a little bit of nature and make pleasant excursions surrounded by silence, quiet and beautiful landscapes, Bibione offers places where nature reigns supreme.