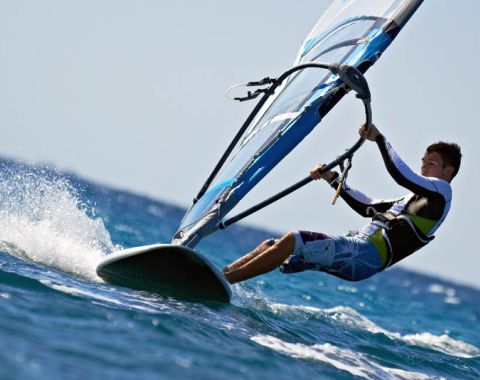 The fans of water sports find in Bibione many indoor pools, but especially the sea. A wonderful sea, quiet and with a gently sloping seabed, ideal even for children just starting in holiday to swim. In addition, don't forget the river Tagliamento, that can be traveled by canoe in some parts.

Not only swimming, the sea of Bibione is ideal for many exciting sports:
Swimming: summer holiday is the ideal moment to learn to swim, especially for children, which can make also many new friends. In Bibione the swimming school Centro Europa organizes throughout the summer swimming lessons in the sea for children, young people and adults at all levels.
Windsurf: since the early '70s Bibione has promoted the windsurf because its position brings the breezes blowing from the sea to the coast, making the sport safer for children. Thanks to the spread of windsurf, in Bibione there are five active school during the summer.
Canoeing: you can make excursions in the near lagoons or towards the mouth of the river Tagliamento. Easy to manage, the canoes are suitable for longer excursions.
Sailing: children and youngsters have the chance to get closer to sailing, thanks to the various courses offered by the Circolo Velico of Bibione. Every year in September takes place an exciting regatta that attracts a large number of athletes and public.
Parafly: in Bibione there are also days with strong winds, the bora from Trieste and the south-easterly winds, ideal for the water-skiing and parafly, two sports where sea and sky meet each other.
Sports fishing: not only in the sea, but also in the river Tagliamento. Thanks to their presence and the association that organizes events and competitions, there are many Italian and foreign tourists that take advantage of the holiday in Bibione to try fishing.
All these activities are carried out by sports association of Bibione, which provide their experienced teachers to enable you to live really exciting moments.