Bibione, the birth of a great beach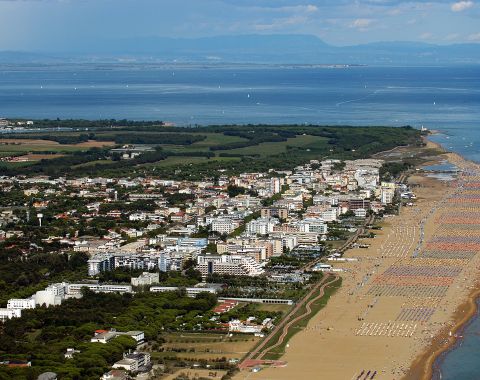 The history of Bibione is very ancient, but reconstruct it is very difficult. To this day came little evidence of ancient times, but we know that the Romans in the first centuries AD occupied this area with land drainages and the construction of roads.
With the rise of Christianity, the entire area of Bibione, which was and island, goes under the Diocese of Concordia Sagittaria and then in later centuries under the Serenissima.
This domination marks the dark years of Bibione, because the Republic of Venice was not interested in these territories, which go back to being populated by wildlife.
As many territories in surroundings, even Bibione goes under the Empire of Napoleon before and of the Hapsburg after, until the Kingdom of Italy in 1866. It will be the Kingdom of Italy to take up the drainages started centuries before by the Romans, but certainly not to make it a seaside resort, but to make the area more healthy and start a settlement.


From the '50s to the present day

During the drainages of the region, it finds a beautiful golden sand, which reveals its full potential from the '50s with the rise of the mass tourism.
Some young entrepreneurs glimpse the great opportunity offered by the desire of people to travel all over Europe and begin to buy lands to build accommodation facilities and services. From that moment the whole peninsula of Bibione becomes a building site in the open air: hotel, villas in the pinewood, campsites and villages, a good road network and all the useful services for the first tourists.
Initially, the flow of tourists was limited to a few local customers and foreign tourists, mostly from Austria and Germany, attracted by the beauty of the area and the low prices. Even the early campsites and villages, built with functionally criteria of great value, help to increase the interest for the seaside resort.

With the tumultuous rise of the mass tourism in '60s and '70s Bibione changes rapidly into a leading tourist city in Europe.
Foresight and imagination led the tourist industry to plough back a substantial part of their income into further investments, so that guests were treated to an ever-wider range of facilities, culminating in the "Bibione Thermae", an impressive spa complex.

This development continues today and makes the beach of Bibione increasingly open to foreign markets, being able to satisfy a large range of demands and wishes, from the beach holiday, to the green holiday, through sport, leisure and wellness.